Every day, we take in and treat the animals in our care, sparing no effort to reunite lost animals with their families. Since January, 381 animals have been returned to their homes, including Finn, who was reunited with his mother last night after more than a year of separation.
Today, you have the wonderful opportunity, thanks to our matching gift campaign, to make a donation that will be doubled and thus allow us to perform 2x the miracles for animals in need.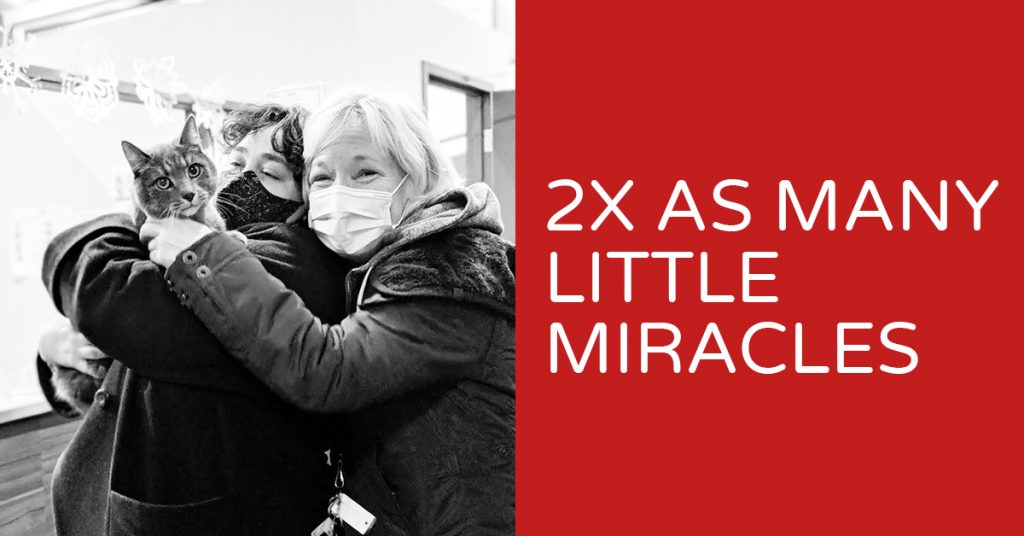 An unexpected reunion
On Tuesday, a caring lady showed up at the shelter with a cat she had often seen around the neighborhood, but who didn't seem to have a home. Fortunately, the animal had a microchip containing his guardian's contact information and so we were able to quickly get in touch with her.
That's when we learned that Finn had been missing since September 2019. During this time, he had traveled many kilometers from Île-Perrot all the way to Lachine! Relieved and happy to find her companion, Finn's guardian said finding him was the very best Christmas present ever!
Like you, we care about helping lost, injured or mistreated animals, and if we make it happen, it's because of your support. If you can, make a donation—which will be doubled—to get next year off to a great start.
Your support is vital and helps provide care, kindness and warmth to animals who need it right away. Continuing through December 31, the matching gift campaign is a rare and wonderful opportunity to support the cause that matters to you.