Press release – for immediate release
Montréal, October 19, 2021 – Today, the Montréal SPCA is unveiling its priorities for animal protection and services in view of the upcoming municipal elections. Asking Montréal's political parties to take a stand on these issues, the SPCA is inviting candidates to share their views during the first-ever municipal electoral debate focusing on animal welfare, to be held virtually and broadcast live on the Montréal SPCA's Facebook page on Wednesday, October 27, 2021 at 7:30 pm.
Animal protection is a key concern for voters. A 2021 poll conducted by EKOS Research on behalf of World Animal Protection showed that 70% of Canadians believe that animal protection and welfare are significant considerations when deciding how to cast their ballot. The same trend was found in Quebec in 2018 when a Léger Marketing poll conducted on behalf of the Montréal SPCA revealed that 72% of voters considered that parties should include animal welfare and protection in their campaign commitments. Among Montrealers, the issue was already central to voting intentions in the 2017 election and is of even greater interest today.
The Montréal SPCA has identified four priority issues in the Montréal municipal elections:
Controlling the sale of exotic animals in pet stores
Allowing companion animals access to public transportation
Opening the city-run animal services centre
Adopting a moratorium on urban chickens
"The actions and policies of the next administration will have major impacts on animals," explains Sophie Gaillard, Director of Animal Advocacy and Legal Affairs at the Montreal SPCA. "By inviting political parties to commit to resolving these priority animal welfare issues, we seek to play an active role in this campaign."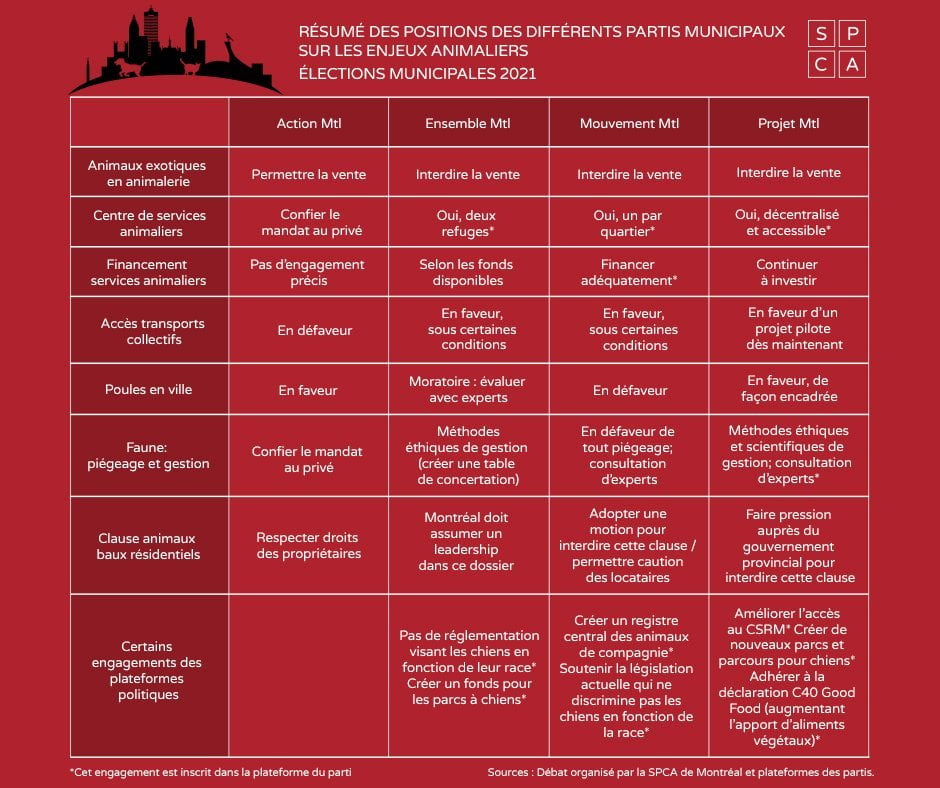 The Montréal SPCA is giving the city's candidates an opportunity to voice their views during the first-ever municipal animal protection electoral debate that it is organizing. The debate will be held virtually and broadcast live on the Montréal SPCA's Facebook page on Wednesday, October 27, 2021 at 7:30 pm. The discussion will take place in French and be moderated by journalist Maude Goyer. A question period will follow the debate.
Debate participants include:
• Craig Sauvé (Projet Montréal, Saint-Henri-Est – Petite-Bourgogne – Pointe-Saint-Charles – Griffintown)
• Patricia Tulasne (Mouvement Montréal, Mercier-Hochelaga-Maisonneuve)
• Louis Chandonnet (Action Montréal, La Pointe-aux-Prairies)
• Sallim Dahman (Ensemble Montréal, Rosemont–La Petite-Patrie, Saint-Édouard borough)
"For the first time in Quebec history, municipal parties will square off in a debate focused on animal protection," says Sophie Gaillard. "This debate aims to give voters the information they need about how parties plan to improve animal protection by-laws and policies, so that they may make an informed decision on election day."
All parties recognized by the Chief Electoral Officer and presenting more than one candidate, including a mayoral candidate, were invited to participate.
The full event can be found here:
-30-
Source: Montréal SPCA
Media contact: Anita Kapuscinska, Senior Consultant, Corporate Development and Media Relations, Montréal SPCA, 514-656-2760, anitak@spca.com.
About the Montréal SPCA – Founded in 1869, the Society for the Prevention of Cruelty to Animals (now known simply as the Montréal SPCA) was the first animal-welfare organization in Canada. Today, the Montreal SPCA is the largest animal protection organization in Quebec, speaking on behalf of animals wherever there is ignorance, cruelty, exploitation, or neglect.